Ovacik and Hisaronu is set high up in the beautiful pine clad mountains and this area has a very large selection of Hotels to suit all budgets, there are many hotels that cater for all inclusive. Most of these have many entertainment facilities for Children of all ages. If you are looking for a quieter holiday this area has many luxury boutique hotels to choose from, or if you want a more private hol
iday you can rent one of the many luxury holiday Villa's and apartments that this beautiful area has to offer.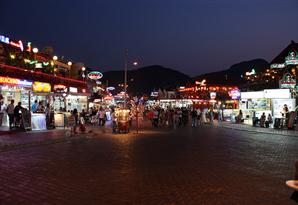 Ovacik & Hisaronu are both very close to one another and one merges into the other, both are very busy lively resorts with many Bars and Restaurants to choose from. Hisaronu is the busier of the two areas. You can walk from one to the other in 5-10 minutes. During the day time most people stay round their pools or head down to the famous Blue Lagoon of Oludeniz beach. During the evenings and night time all the Bars, restaurants, and night clubs come alive with some great entertainment to suit all.
There are good restaurants to suit all nationalities, traditional Turkish foods, Chinese, Indian, Italian or the good old fashion Full English Breakfast if you are missing some of the comforts of home. There are also many shops to buy from where you can shop till you drop for all the genuine designer goodies that you need. Hisaronu also has a market day on Mondays where you find more goodies to tempt you. From these areas you are able to book many day trips direct from the travel shops which are situated all down the main street of Hisaronu or you can book through your travel agency representative at your hotel.
There is also a Fun park situated in Ovacik for the Children where Mum's and Dad's can relax while watching the kids have fun. For the older more energetic adventurer you can go scuba diving, hire quad bikes, go wind surfing, water skiing, hire Jet ski's or take the daring plunge off Babadag Mountain and have a paragliding experience from Oludeniz, which is recognised as one of the world most famous spots for this sport and now holds an annual world championship competition for Paragliding events.
There is a regular Dolmus (local bus) service into Fethiye Town and down to Oludeniz every 10 mins from Hisaronu. From Hisaronu you must take a 10 min bus ride through the beautıful pine clad forest to the amazing village of Kayakoy. Kayakoy is known to many as the ghost town where up until 1922 around 25.000 Anatolian Greeks made their homes here on the slopes of the mountain side and farmed the surrounding land and valleys. During this time conflict broke out between Turkey and the Greek population of Kayakoy then slowly the Greek population left and from the 1950's until this present day Kayakoy has remained a ghost town of ruined churches and houses. This beautiful place is stuck time and has such a Magical atmosphere it will leave you with a feeling of peacefulness. The population of Kayakoy is now around 2,000 and mainly consist of local farmers and a few villagers that have made their homes along the main village road and in the hills around the valleys. There are a few Hotels and Pensions where you can stay in Kayakoy. There are also some great traditional restaurants that have tastefully and sympathetically renovated some of the old buildings which are perfect for a unique diningexperience.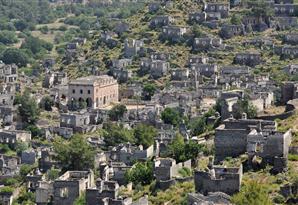 From Kayakoy you can walk to the beautiful bay of Gemiler which is signposted from Kayakoy village. It is around 5 – 6 kilometres, If you don't fancy the walk then there is a Dolmus (local bus) that goes every hour. At the cove there are a few places that will serve food and sun beds are available. Gemiler bay is well worth a trip but at weekends it does get very busy. Week days are much quieter. Across the Bay from Gemiler you will see the Island called Gemiler Island which the locals call St Nicholas, on the Island there are many ruins that you might like to explore, there is a local water taxi that will ferry you across to the island.