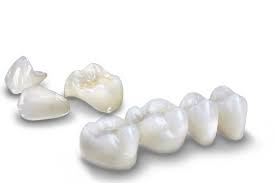 Dental Bridges are a popular treatment to close gaps where teeth are missing. are one of the most popular treatments in our Fethiye clinic.
A Dental Bridge is fixed to your teeth either side of your gap. Depending on the strength of your teeth adjacent to the gap it is possible to close a gap of 1 – 5 teeth. A Dental Bridge looks and acts like your original teeth, you can eat and speak as normal and it is maintained simply with daily brushing.
The colour of a Dental Bridge is carefully matched to the colour of your surrounding teeth to ensure it blends in and appears very natural.
A Dental Bridge is crafted with Dental Crowns that are fused together to make one unit. There are two types of Crowns offered at our dental clinic in Fethiye. A description of each is below.