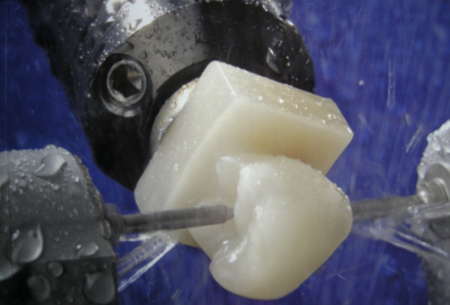 Clinical CAD/CAM technology which enables the dental clinic to create your Crown, Veneer or Porcelain restoration in the dental clinic in approximately 45 minutes. Pure Porcelain (Ivoclar & VITA) and E.Max™ Crowns and Veneers are restorations designed in the clinic itself giving you full control over your smile design. Once you have approved the design, the restoration (Crown or Veneer) is milled in our own Cad Cam machine. No outside laboratory is needed.
Instead of using a putty impression to take a model of your exisitng tooth shape, the dentist takes a digital impression using a wand camera. The image is then converted into a 3D computer model of your tooth which is used as a guide to design your new tooth or complete smile line. Once both you and our cosmetic dentist is happy with the newly designed tooth, this data is sent to an in-clinic milling machine, which fabricates your new tooth from a premium quality ceramic block.
We are the only dental clinic in Fethiye with this technology in the clinic itself.